I have been home for over a month, but between other projects and going through footage, it's taken me time to get to part two of our journey through Jordan. In Part 1, I covered our trip from Israel to Jordan, and then our last moments in Jordan. Part 2 covers the middle portion of our travels.
In the early planning stages of our Fall Tour, we knew wanted to experience Jordan in as authentic a way as we could, and after some research, we booked the Seven Wonders Bedouin Camp. A bedouin, in its simplest meaning, refers to tribes that would travel together (or sometimes were stationary) and live off the land in tents and caves. The backdrop of Jordan against a village of tents drew us in, and we had a memorable experience.
It was December and the tents weren't heated (or have much electricity), so we froze. The four heavy blankets provided weren't quite enough, so I slept in all my clothes and sweaters and even, one night, jacket. If it sounds like I'm whining, I'm not. I hate being overly-coddled, so this was perfect. Sometimes the suffering is the experience. We knew what we signed up for, but it definitely was COLD! Being off the grid, i.e., no wifi, was nice, although the lack of outlets given three full days of photoshoots, had me a little worried. I'm glad I had enough batteries and memory cards, and the super useful extra battery pack from Lifepower A2s with solar panels, to recharge (charges a macbook pro!). Side note: with all my photo gear, we emailed ahead of time to make sure there were locks or a place to lock up belongings and were told yes. Turns out the locks work only to lock you INSIDE the tent--something we learned when Marlo went to dinner, locking me inside the tent, only to return three hours later asking where I'd been (thanks, babe ; )). The food at Seven Wonders was decent, and stray goats/dogs/cats made up the entertainment.
Why Jordan Tours (more on them below) picked us up every morning and dropped us off at night with a full debriefing. They made sure to check on our satisfaction and the next day's plans. We were given ample opportunity to voice any concerns, and we were well fed during the tour itself, which is actually quite rare based on prior experiences in other countries. Tour companies often cut corners wherever they can, so food is an important piece for us. We're both athletes and generally eat more than others, and we seek out quality food, proteins, non fast food, non-sugary options, so it's often we feel under-fed during traveling. In this case, no problems whatsoever. The transportation alone made the prices we paid more than reasonable, but at the time of booking, it (admittedly) felt like a gut punch.
Day 1: Petra
Our first day had a certain lack of communication. We were picked up, but because the tour guide didn't speak English, we had to take it by faith that he knew our objective and purpose (epic photoshoots inside Petra itself). Though the company briefed us--because of all the unfamiliar names and terms and this being the first day, we couldn't be sure of anything until we got there. The negative is that we lost out on a wealth of information on Petra, but the positive was that our guide was quite nice, and he brought us to eat with his family at his cave home. This experience felt unique and very very cool, like meeting a new friend with an entirely different lifestyle.
To be clear, we HAD been warned he didn't speak English, prior to booking, but because we needed to be led the "back way" into Petra to beat the crowds--he was our only option. Thus we got the absolutely authentic experience, being led by a bedouin who grew up and still lives within Petra itself. We got to see the way he lived, his family, and we got to experience Petra in a more intimate and personal way than most. If we had time, we would've wanted a second day within Petra, with a guide who could give us information, but our time was too short. We never got the iconic shot we'd meant to get, seeing and shooting from up above the Treasure during sunset, but this was our own decision and I guess we'll just have to go back someday!
While there, we ran across several merchants and residents of Petra who were selling artifacts. It was a strange sensation, seeing and being offering such ancient coins and pieces--not knowing what value anything actually had...if we were being sold counterfeits, not knowing if we were contributing to some kind of problem where people were running away with historic artifacts of a land, but we did walk out with a few rusted coins with roman figures on them.
Petra itself was jam-packed with historic significance (we learned more after visiting and doing some research). Only 20-25% of it is said to have been excavated. I remember this distinct moment where I stepped on an unusual rock a little off road, and I realized that it was probably something far more significant with carvings or a man-made structure to it. It was a surreal sensation knowing I was walking on some kind of 2000 year-old ancient structure I couldn't see.
Since we went from the back end of Petra, the end of our tour was arriving at the "front" of Petra. At the Treasury. We decided to re-walk a portion of the experience, of seeing the Treasury appear in front of us, completely hidden for twenty minutes of walking through steep canyon walls on either side. It is absolutely magical, this moment. People talk about it all the time for good reason. If you can experience this, it will be one of the most memorable moments in your entire life.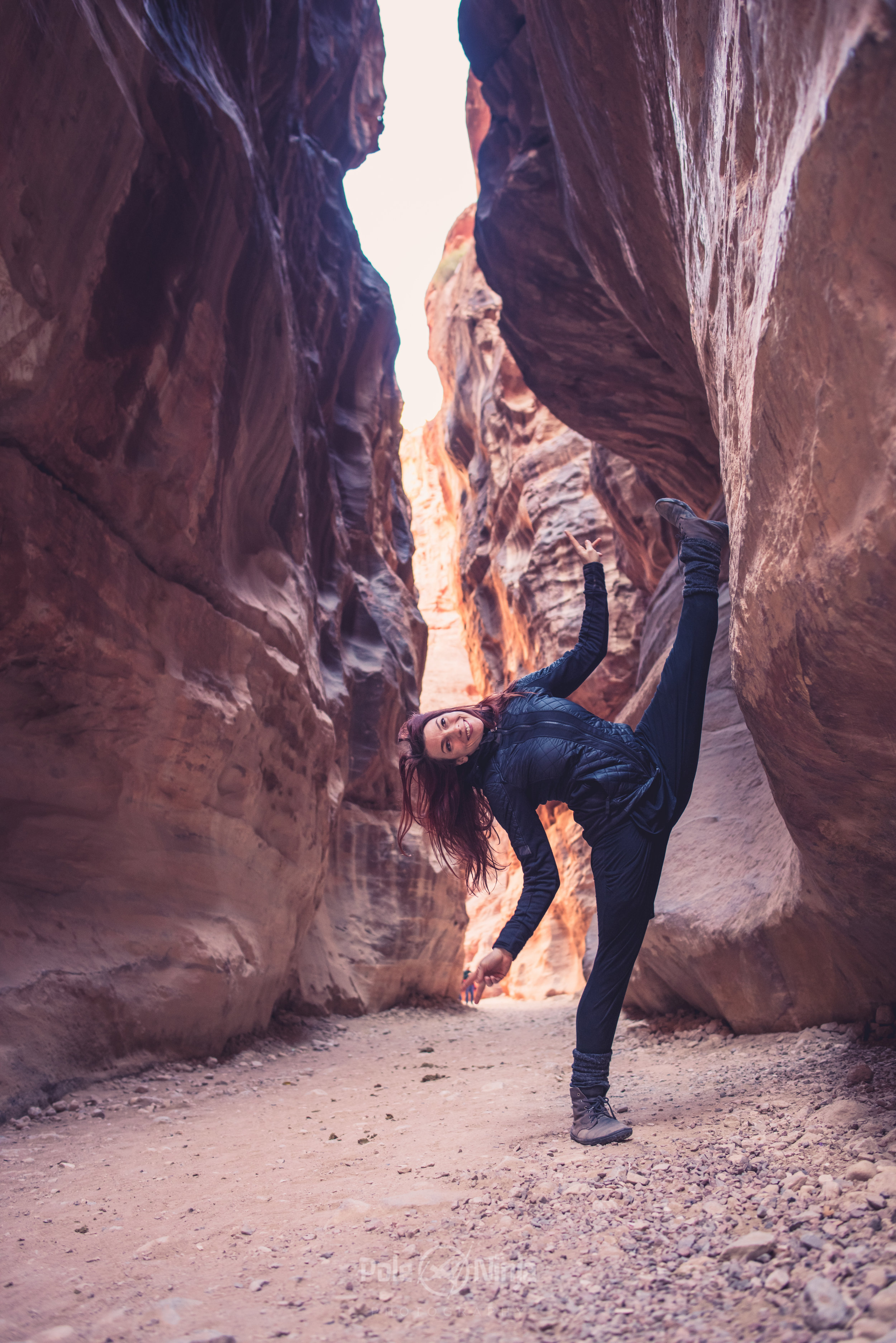 Our second day was in Wadi Rum. It's a gorgeous desert/valley that was about 3 hours drive. Many recommend staying there overnight, sleeping in the desert, but we had already booked our stay and couldn't modify it. I wish we had more time. You could definitely spend weeks there hiking and rappelling and canyoneering alone. I highly recommend Ali Helalat for this. It's his specialty.
Anyway, our tour guide on this second trip was quiet, and clearly just doing what needed to be done--driving us around. He was kind, but I would say I was most disappointed by this part of the experience. He did open up, and he did share more when we brought up the stigma of muslims due to ISIS (truly frustrated by the reputation against Muslims), but other than than it was mostly a serene experience rather than an information intensive one. Not complaining, but in this situation where we weren't doing photoshoots, the information about the area would have been nice.
For us, it was a rest day, and the pictures speak for themselves.
Day 3: Little Petra
The second part of Day three is covered in Jordan Part 1.
Our morning was to "little Petra," a place I hadn't known existed prior to coming. We were told that it was where ancient people, ambassadors from other countries, visitors of all kinds who wanted to visit Petra, were brought instead of the real Petra. It was a security thing, to show this grand location as if it were the real city. Hotels and a king's palace and tombs were here, and lots of water collection cisterns. Really, I almost liked this little Petra better than "big" Petra. Less people, and densely constructed structures. Today, under the guidance of Ali, we learned a lot more about how the caves were used, and the local plants, and also quite a bit about Petra itself (when he discovered we'd been guided by a non-English speaking tour guide, he thought to fill in our knowledge).
There are lots of theories to why the people suddenly left Petra, this secret city. Some say drought, others say they were nomads to begin with. Others yet say flooding (if I'm interpreting what we were told, correct). Whatever the case there is so much yet to be discovered, and everything is extremely well preserved. Lately, there has been a lot more water to the area, so erosion could increase in rate. But if you're afraid of terrorism, or danger--please don't let that stop you from visiting. It's a tiny chance, tinier than the dangers of just the flying part, and letting it affect you lets terrorism win. Now is probably the best time to visit when everyone else is too afraid to go.
I have attached some audios from our tour guides, once again, if you want to learn more. Otherwise, enjoy the photos and video throughout this blog. Next up will be my ventures into Romania.
Soundbites from our tour guides:
Each day we ventured out for photo shoots, and I have to again give my huge thanks to Why Jordan and Desert Eco Tours and especially Ali Helalat, for taking such good care of us throughout our trip. They are a partnership across the Jordan/Israel border, and the transfer between them was seamless. As a tourist, not knowing exactly what is going to happen and if you're safe...it's a big relief to be taken care of. If you're planning on visiting Jordan, I highly recommend them. We felt very safe. I would not recommend traveling without a tour company if you're coming or going through Israel. The rules keep changing, and only tour companies (in many cases) can get you across the borders between the two countries.
We paid about 1500 USD for 3 days plus transportation and guidance--6 hours per day guaranteed of experience with a tour guide. This included the to and from airports at the beginning and end of the tour, and with special requests for unique locations to do photoshoots and tickets and lunch...all quite well-priced. This did not include hotel as we'd booked ourselves. We don't have that much money for our projects, since we fund it personally, so things like this certainly add up and we have to be decisive about what we put the money towards. In this case, well worth it.