If you're only interested in the photoshoot, and the BTS of the photoshoot scroll down...but you'll be missing out. I've compiled unique video, audio, text, and 360 degree immersions of our journey to capture the image above. It began in Israel...
Israel: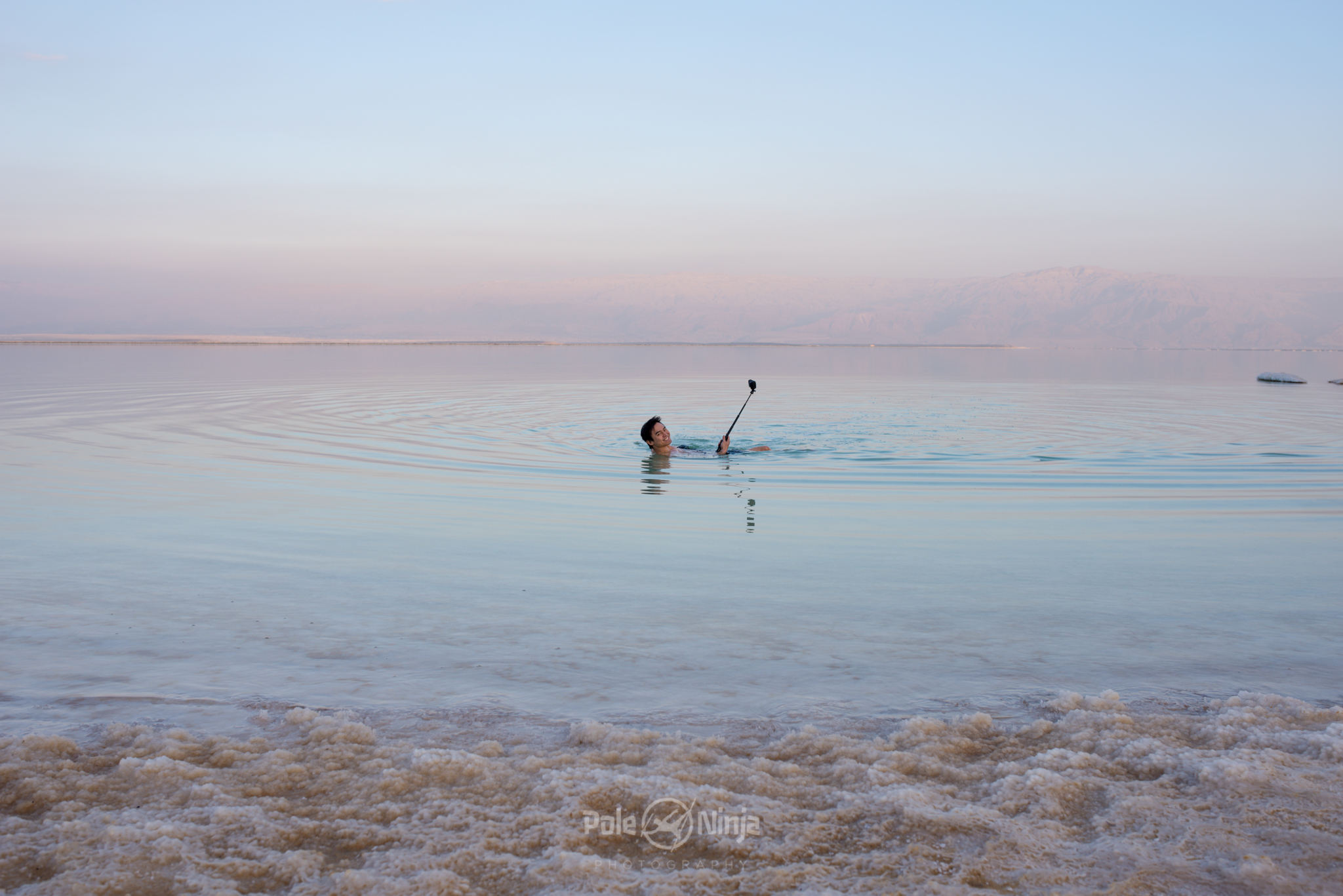 We were under the impression that the Dead Sea, coming from Jerusalem, was only thirty or so minutes by bus. Technically, it is--but it's more like a couple hours before the bus stops. After much confusion, and a hyper-aggressive bus driver, we finally made it to the town of Ein Gedi, but with only about one hour before sunset. It was quite cold when we got there, so there was virtually no one else on the beach.
We'd thought, based on pictures we'd seen, that it would be so-so visually. Maybe we'd do a mud spa. Be normal tourists. But whoa...the view, the colors, and the landscape are all breathtaking. Once we got there, seeing sunset--we really did wish we brought some costumes and proper photo gear.
It's so pretty, in fact, that you don't really mind being stabbed by jagged salt crystals as you walk into the water. Other people had shoes on--we didn't get the memo. You better not have any open wounds, either (salt, wounds, ow). We can see why the Dead Sea claims such healing properties, though; we were baby-smooth for days after. Plus, floating is fun. Your buoyancy makes you feel like a sea otter.
The Dead Sea, besides being very salty, is also quite oily. Because of that, colors across the surface of the water are unbelievable. You think it's hyper-manipulated/saturated. Except it's your eyeballs you're looking through and it's all real. Surreal.
We did a quick impromptu photoshoot and swore that we'd come back and spend proper time. Also, be warned that the water, if it gets on anything at all, never dries. The oil-salt-water defies any reasonable expectations in drying time. I hung up the pants I'd gotten wet for a week, and it remained soaking until I finally hand-washed/dried it. I hope my gear will forgive the abuse.
Here are a few of the impromptu shots we got.
And some fun video with behind the scenes:
Jordan:

It's difficult to get to Petra from Israel without help.
You need a visa, and the rules keep changing about how or when to get it. Anything online seemed unofficial. But we were under the impression that you just show up and if you're American, you can get one. Turns out there are specifics to this. This was one of our last stops of a 2.5 month long tour; we hadn't had a chance to research it or follow up. That was a mistake.
I won't get into the complexities too much, but we had to fly from Jerusalem through a tiny airport to Eilat. The tiny airport seemed to have no foreigners at all -- so we went through an extensive searching and questioning process due to the fact that we were going to visit Dubai later on our trip. They literally examined our scalps hair by hair and went through my photos, my patient emails (for proof that I was a doctor), my phone, questioned us separately (three times), and handled everything in our luggage. Thanks to them, we also had a huge detergent explosion in our luggage. We walked in with three bags, and were sent off with 6 because they couldn't repack in time.
I get it. Security. Middle East. Tension. I'm not complaining. They were nice about it all, even if they didn't handle my photography gear in ways I felt good about, but it certainly could've been much worse.
This was all before we'd even crossed the Israeli-Jordan border. We were not looking forward to the next step.
An amazing tour company rescued us. The Israel side of this company was Desert Eco Tours. They picked us up from the airport, and arranged everything for us to get through the security. We were taken care of and felt safe through the entire process. Of course, they tried to sell us a tour--and we're glad they did. We purchased a package from them on the spot because of the reality-check on how difficult things could be. Definitely the most complex travel situation we've ever had. The tour wasn't cheap, but taking the tension off of not knowing or being scammed by the taxis, etc. etc., was a huge deal. Once across, we were handed off to Why Jordan Tours company--the company that actually managed our tour. Now, I think the price was fair given all that we asked for, and given all they did for us (and the fact that two companies were involved).

Getting pictures of security areas in both Israel and Jordan is kinda a big no-no here. So this is really all I got of this area:

Oh, and this (you walk 5-10 minutes from one end of the border to the other. We have way too much gear and costumes, so thankfully there were some (squeaky) carts):
To learn more about the head coverings, listen here:
The quality of our tour guides varied (keep watch for a second blog post on Jordan coming soon, with a full review of the tour company), but we had a unique experience and we are 100% pleased with them. More on Petra as well in the next blog post.
Skipping ahead to our last day in Jordan--we were en route to the Dead Sea (yay, photoshoot).
We ended up with a tour guide that I swear knows all of Jordan inside and out. He never once looked at a map, and he seemed to know each trail and canyon of everything we passed. He knew the time and effort each path would take...on foot. He was ex-military, and super intelligent. He grew up there, a Bedouin, living in Petra. This man seemed to know everything there was to know about his country, history-culture-landscape, and he spoke english very well; we finally felt like we were grasping the basics of the culture. Ali Helalat, with Why Jordan Tours, you MADE our tour.
BTW, we happened to be doing this trip on Muhammad's Birthday--if you want to learn more about it, you can listen here: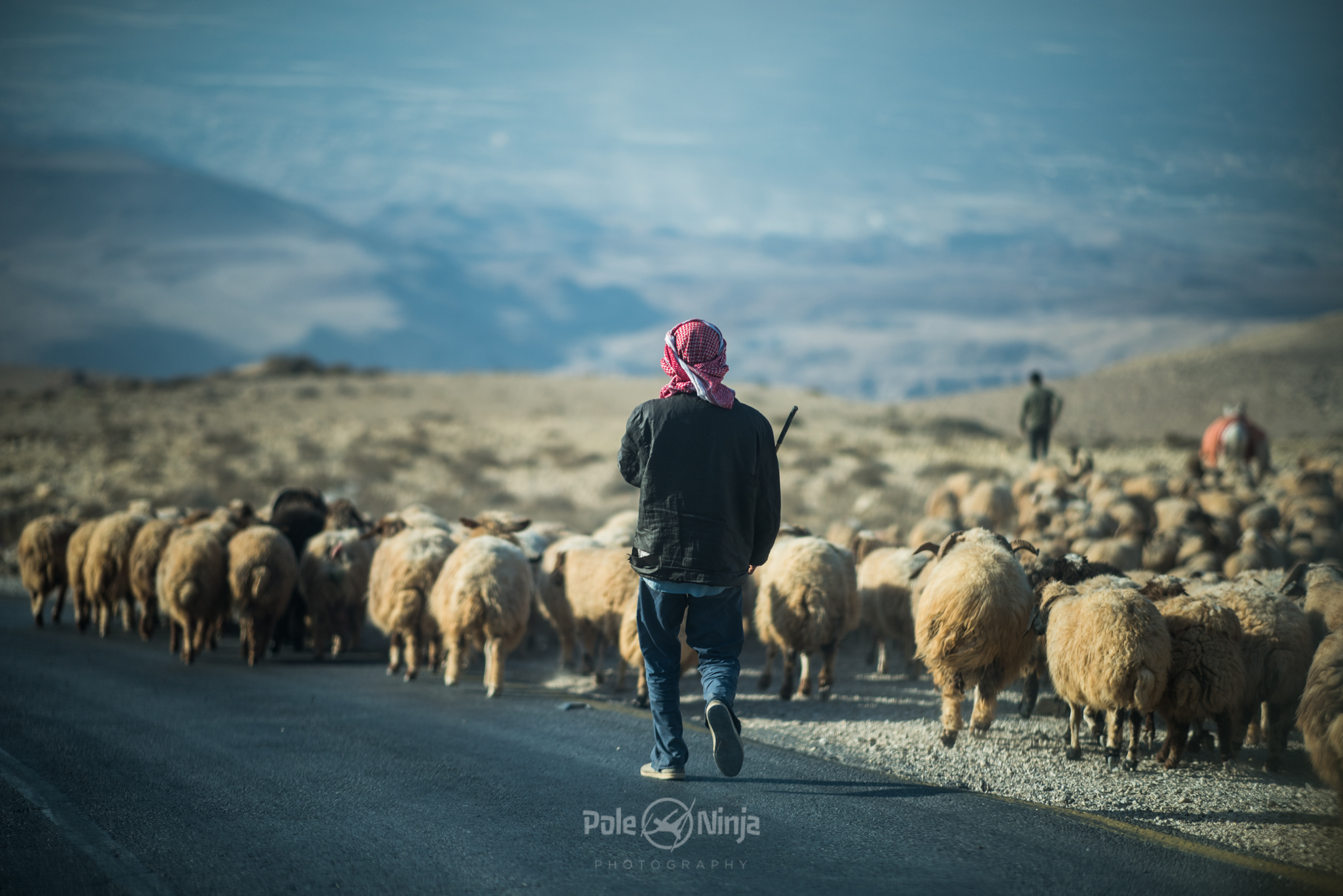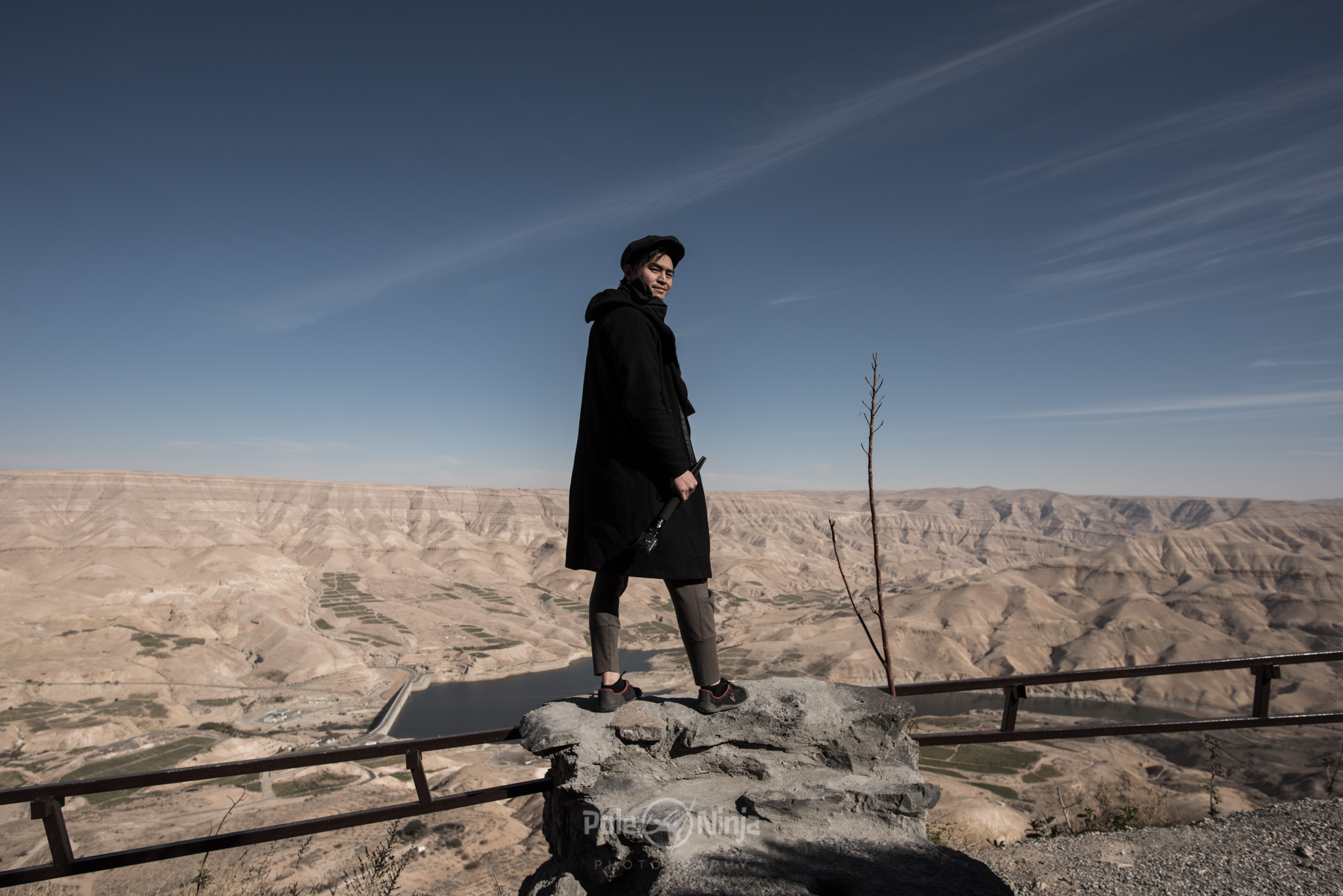 PHOTOSHOOT:

When Ali heard what we wanted--an epic shoot with no tourists, he knew exactly where to go. We didn't have much time, so we rushed to the location. We passed numerous security points, and I think his ex-military status made the whole process much easier.
We ended up on the edge of a cliff. I know for a fact that I would've never been able to find this place without Ali's help. He must have explored (walked) the entire coast countless times.
We had only a little time before sunset. It was illegal to be there after sunset. In fact, the military with their massive machine gun jeeps made us leave right as we were packing up. But we got our shots in one of the most majestic places we've ever been. I guess epic locations call for epic endings.
Here are the finished images:
And PLEASE check out the 360 video of the experience. This is my favorite 360 video yet because you get to share the experience of discovering a new place. Look around and listen to the audio. I gotta say, I LOVE Ali's voice. He sounds so...grandiosely heroic.
Unfortunately, the Dead Sea has been retreating for several years, for a variety of reasons. Listen here for more info:
Other Content:
Here are some other images and info we got that day:
Now for a fun one: The largest cistern in the area has a creepy story. You can listen to it here in the 360 Video:
And here's the Greek Orthodox Church of St. George -- it's got an ancient mosaic map that's pretty interesting. I recommend listening to the audio at the same time for this one, as you look around:
I've also included some audio recordings of him explaining some fun things. Hidden treasure stories, religion, culture, history. If you're into that, enjoy these raw audio files.
The Future:
We will definitely be working with Ali again. I am excited to arrange a photoshoot with many of the locations he mentioned to us. I trust that he knows the land better than anyone, and he knows exactly what I'd want as a photographer. I would shoot at that same location a hundred times, so I can only imagine what else is available. If you're interested in doing this with us, let me know. We can only manage 3...maaaybe 4 models total.
On the safety side: it is pretty safe there. Tourism has plummeted due to fears, but Jordan itself is safer than people think. Their economy really needs the support of tourists. Full disclosure--about 4 days after we left, for the first time in 10 years, there was a terrorist attack at a popular tourist castle, the Karak Castle. We almost visited it, but we chose not to go because we had to get to the Dead Sea by sunset. I'm against people letting terrorists control them with fear, but it would be irresponsible for me to say that nothing can happen. But this is the case with any country you go to, including your home. Clearly, by the military presence alone, you can tell the state of alert. The good news is that if you want to do a photoshoot with me, in Jordan, we won't be going to the popular tourist spots.
Hope you enjoyed this journey with us! L It'll be Petra photoshoot, Bedouins, and some additional impromptu shots in Wadi Musa! Here's a preview image, and support this page if you want to see more content!